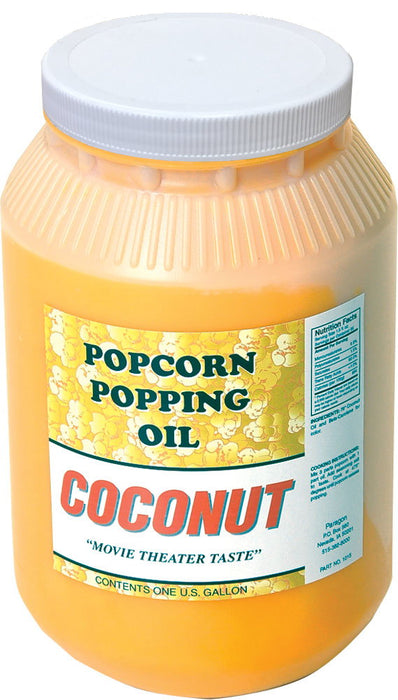 Popcorn Oil - Coconut 1 Gallon
Save

0

%
Save %
Original price
$32.69
-
Original price
$32.69
Coconut Oil
Paragon's clean cooking coconut oil. Makes golden popcorn. Better tasting in flavor and aroma. Does not require refrigeration. This non-hydrogenated coconut oil is refined, bleached, and deodorized (RBD) and possesses properties that make it unique among edible oils. It has a high concentration of medium chain triglycerides consisting mostly of short chain fatty acids and is solid below and liquid above room temperature (melt point range 75-81 degrees Fahrenheit). 76 degrees Fahrenheit coconut oil is highly stable against oxidation and is frequently used in applications where long shelf life is desired. Its low viscosity imparts less greasy mouth feel when compared to other edible oils. This oil is non-GMO, trans fat free and considered non-allergenic.
Specs

Model: Coconut Oil
Part#: 1015
​Package Size: 1 Gallon
WxDxH: 6" x 6" x 12"
Ship Wt.: 9 lbs.
Key Features

One of the most healthy and versatile cooking oils
Great for baking, cooking, frying, or making popcorn
Can be used in place of butter, shortening, or other oils
Tasteless and odorless
High smoke point of 400 degrees Fahrenheit
Refined and non-hydrogenated; naturally trans-fat free