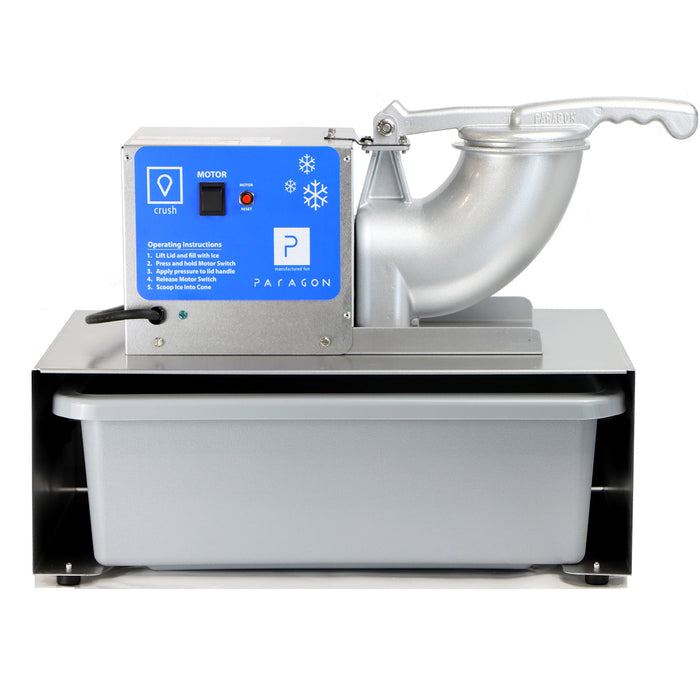 Port-A-Blast Snow Cone Machine
Save

0

%
Save %
Original price
$510.50
-
Original price
$510.50
All the features of a standard, commercial Paragon Snow cone machine but more portable! This unit uses the same heavy duty 1⁄3 HP 1725 RPM motor in our other snow cone machines allowing for continuous ice shaving all day long or up to 500 pounds of cube or chunk ice per hour. The shaved ice is stored in an easily accessible plastic tub drawer, keeping the snow cool and insulated from the Sun for longer periods of time. This snow cone machine comes with two side handles for easy transportation. Adjustable blades allow for both finely shaved "snow-like" ice or for slightly more chunky ice, typical of a classic snow cone. The heavy duty frame is made of stainless steel and aluminum for long-lasting durability. A specially designed snow cone scoop is also included and makes it easy to remove the ice from the machine to construct the perfect snow cone. What makes the Port-A-Blast stand out from other commercial machines is not only its price, but its ability to pre shave and store ice for waves of customers and consumers. This machine comes with a one year warranty and is NSF/UL/CE compliant.
Bullet Points:
●  The Paragon Port-A-Blast is the go-to commercial ice shaver/snow cone machine for a variety of vending events including: markets, fairs, amusement parks, schools, camps, bars, sporting events and parties.
●  Features a plastic tub drawer allowing for maximum snow storage that is both insulated and protected from the heat of the Sun.
●  Strong and sturdy cast aluminum horn, pusher and chopper with two high grade stainless steel blades that are adjustable for both fine shaved "snow-like" ice as well as bigger ice chunks typical of traditional snow cones.
●  Two Handles on each side for easy transportation and setup.
●  The 1/3 HP, 1725 RPM, 635 Watt motor can shave 500 pounds of cubed or block ice per hour; easily outlasting cheaper and smaller motor units seen for sale throughout the web making this machine a reliable industrial product.